Welcome Gift
Newly registered members get to receive a set of 1-for-1 Welcome Voucher.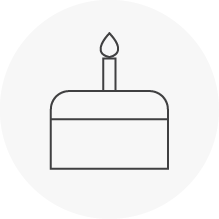 Birthday Perks
Receive a set of Birthday Vouchers on the 1st day of the birthday month yearly.

Exclusive Discount
10% OFF total bill at Food Junction all year round.

Package Bundle
Gain access to different Package Bundles and or subscribe to your preferred Package Bundles with recurring billing facillity.

Play & Win
Every $10 SV spent entities member to a PLAY chance to win attractive gift vouchers or Points.
Flash Deals
Gain access to exclusive flash deals from a plethora of brands under BreadTalk Group.

Treasure Hunt
Hunt for special QR instore to receive surpise gifts and vouchers.

Digital Wallet
Flash QR and pay with your eWallet